A cozy place to enjoy Ridgefield
The Olde Library Inn is a collection of three apartment style vacation rental suites located in the heart of Downtown Ridgefield.
We love spending time in Downtown Ridgefield. Even though we don't live too far away, there were a number of times we wished we could just stay the night downtown after a day on the river or late night concert. So we decided to create a place we would enjoy staying and share it with others.
Bookings are available through Airbnb. There are 3 suites total, 2 studio style with queen bed, 1 bedroom suite with king bed and queen sofa sleeper. Guests have access to the shared yard space and covered porch. Located across from Overlook Park with views of the Oregon foothills and walkable to dining, shopping and Downtown events.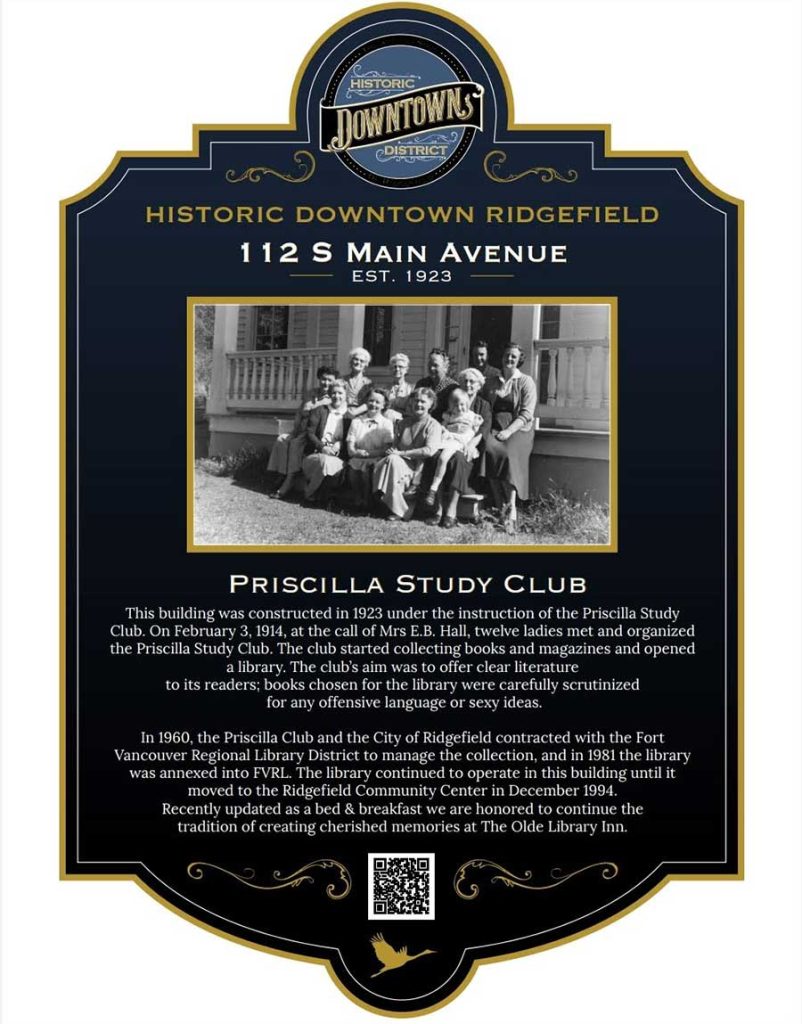 Originally constructed for the Priscilla Study Club. After a large donation of books the club opened to the public and evolved into the city's first library with operation into the early 1990s.
This building was constructed in 1923 under the instruction of the Priscilla Study Club. On February 3, 1914, at the call of Mrs E.B. Hall, twelve ladies met and organized the Priscilla Study Club. The club started collecting books and magazines and opened a library. The club's aim was to offer clear literature to its readers; books chosen for the library were carefully scrutinized for any offensive language or sexy ideas. In 1960, the Priscilla Club and the City of Ridgefield contracted with the Fort Vancouver Regional Library District to manage the collection, and in 1981 the library was annexed into FVRL. The library continued to operate in this building until it moved to the Ridgefield Community Center in December 1994.
Downtown is so lovely, it is just the perfect place to stay if you want to get away.